Reinforce spelling and vocabulary instruction with engaging word work activities! Your students will love the festive winter theme and you will love sneaking in some extra practice! Learning disguised as fun is always a safe bet. The four activities explained below can be played independently when quiet time is needed, or use them for a friendly class competition.
Winter Word Search
I have yet to meet a student who doesn't love a word search. I'm not sure what is more appealing, finding all the fun words or getting the opportunity to use a highlighter. Either way, you can't go wrong with a winter word search activity. When it's time to create your word search, you can find a ton of free generators online. I prefer to use the word search generator from A to Z Teacher Stuff because it gives the option to only include forward facing words. It depends on the abilities of your students, but backwards facing words are incredibly difficult to find and not a reliable source of functional vocabulary practice. Once your word search is ready to play, challenge students by setting a time limit. See who can find the most words within the time limit and give them with a fun new nickname: Eagle Eyes.
Winter Word Scramble
Challenge students and have some fun with a winter word scramble! I like to include tier one, tier two, and tier three words to build confidence and challenge students at the same time. I also like to include compound words and words that reinforce the spelling rules we have been learning throughout the year. I included the list of winter themed words I use if you don't want to reinvent the wheel. Added Bonus: When students finish the word scramble, have them turn their paper over and create a winter themed story or poem using all of the words. Voila! Two assignments in one!
Winter Wordsmith
This is fun to play as a class. The rules are extremely simple, but it can really bring out the competitiveness in your students. The object of the game is to spell as many words as possible using the letters in the word WINTER. If you play as a class, set a time limit for game play. Teams will work together to create as many words as they can using the letters in WINTER. Each word is worth one point. If another team has the same word, both words are eliminated and neither team earns a point. You can have students use their personal whiteboards or the DIY version shown below. If going the DIY route, make sure to provide students with a piece of heavy-weight white card stock to insert into their page protector. The card stock is much sturdier and will hold up longer than the printer paper. If you are in the market for a class set of white boards, I like these because they can also be used as clipboards for carpet work or station activities. Teacher Hack: Use youth black ankle/"no show" socks as white board erasers. They work perfectly and you can get away with washing them every couple weeks or longer, depending on frequency of use.
Winter A to Z
If you loved the game Scattergories, you will love Winter A to Z! In order to play, students think of as many words related to winter that start with each letter of the alphabet. Letters have different point values, and points are earned for each word. Like Winter Wordsmith described above, if students/teams have the same word, both words are eliminated and neither team gets the points for that letter. When students are finished thinking of words for as many letters as possible, crosscheck the words and add up points to get the total score. You can list the point values for each letter on the board or project them with your document camera for students to copy on their own paper, leaving space to add words when game play begins. If you want a preprinted version of the game, you can download it here from Literacy in Focus on TpT.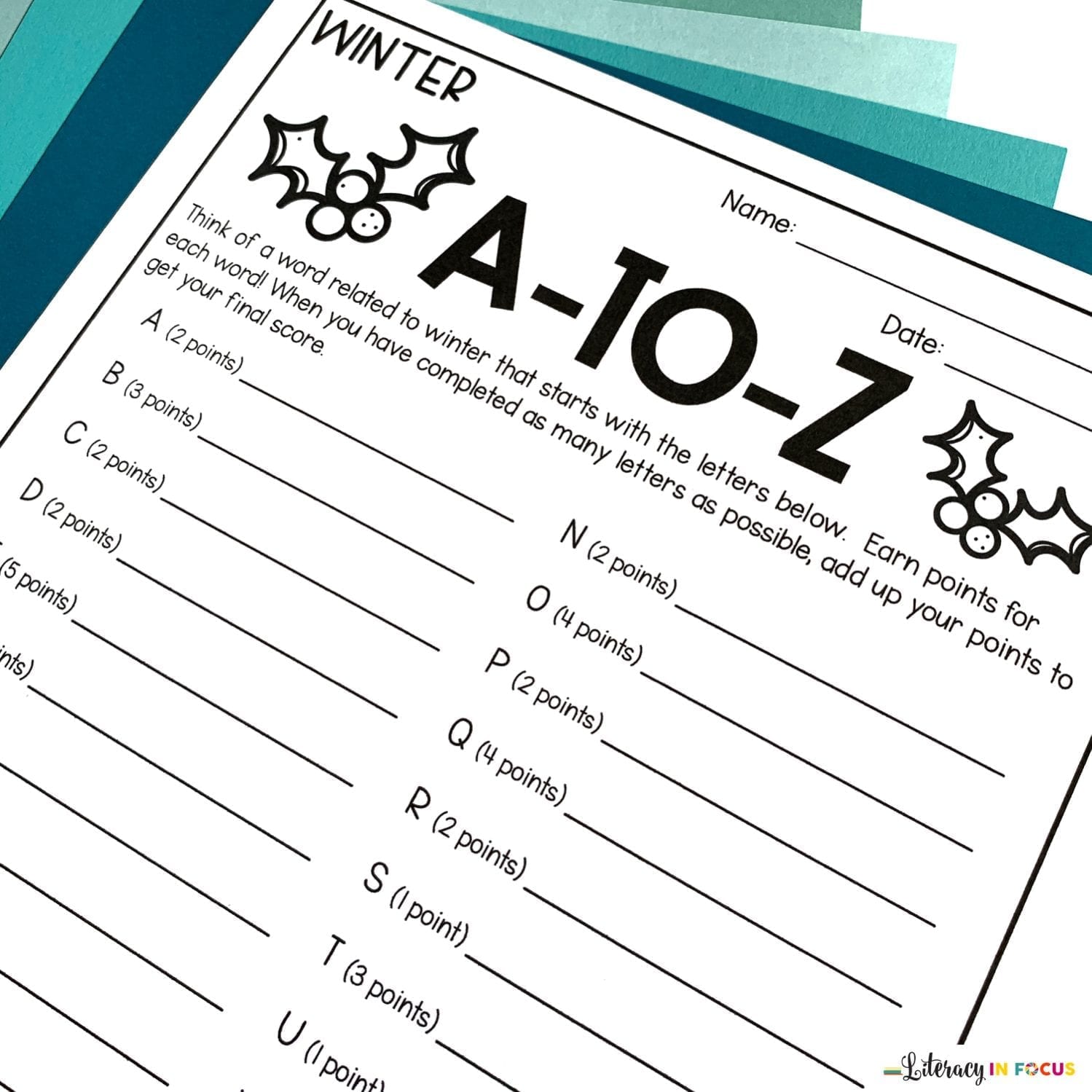 If you're interested in using all the vocabulary activities with your students and you want preprinted worksheets, everything you need is available from Literacy in Focus on TpT! Make them yours today!
Four Winter Vocabulary Activities from Literacy in Focus on TpT