Writing current event reports is a tried and true instructional approach for getting students to connect with non-fiction text. There are a variety of formats that current event reports can take, but not all have the ability to align with Common Core Standards for reading informational text, which is why I rotate through the following five standards-based formats when assigning current event reports.
Main Idea & Details
Writing a current event report is a great way for students to practice identifying the main idea and supporting details presented in a text. In order for students to to draw out the main idea, the article must be read in its entirety. After reading the article and identifying the main idea, it is time for students to select important details. Requiring students to select three details that support the main idea helps narrow down the options. I find that most students are quick to rewrite the article in their own words, but the Common Core Standards for reading informational text require more than strictly summarizing. Ideally, students will have a deeper understanding of the text after identifying the main idea and supporting details.
Text Connections
The text connections current event format allows students to demonstrate their ability to integrate information by establishing three different types of connections with the text. Making text connections is an active reading strategy that, when applied with differentiation and scaffolding, can lead to an increase in reading comprehension. Connecting the article to the self, other texts, and the world helps reinforce understanding of the information presented in the article. First, students connect the text to something in their lives. Thoughts, experiences, family, friends, and school are common connections students can make when connecting the article to their own sphere of influence. Next, students connect the current event article to another familiar text. I like to encourage students to think about other books, characters, poems, articles, websites, and blogs that might relate to what they have chosen for their current event article. Connecting their current event to another text will reinforce understanding of both publications. Finally, students connect the text to their world. Television, movies, events, games, news, and pop-culture are all examples that contain worldly messages in which students can make connections.
Defining Academic Vocabulary
Current event reports are a great way for students to work with tier two and tier three vocabulary. Instead of glossing over the difficult words, students are required to locate and define them. I encourage students to initially try to define the academic language using context. If that isn't possible, students need to be able to utilize a dictionary for additional support. The Common Core Standards for reading informational text implicitly state that students be able to identify and define academic vocabulary. Requiring identification of the vocabulary terms as part of a current event report serves as great practice when unknown words arise during independent reading.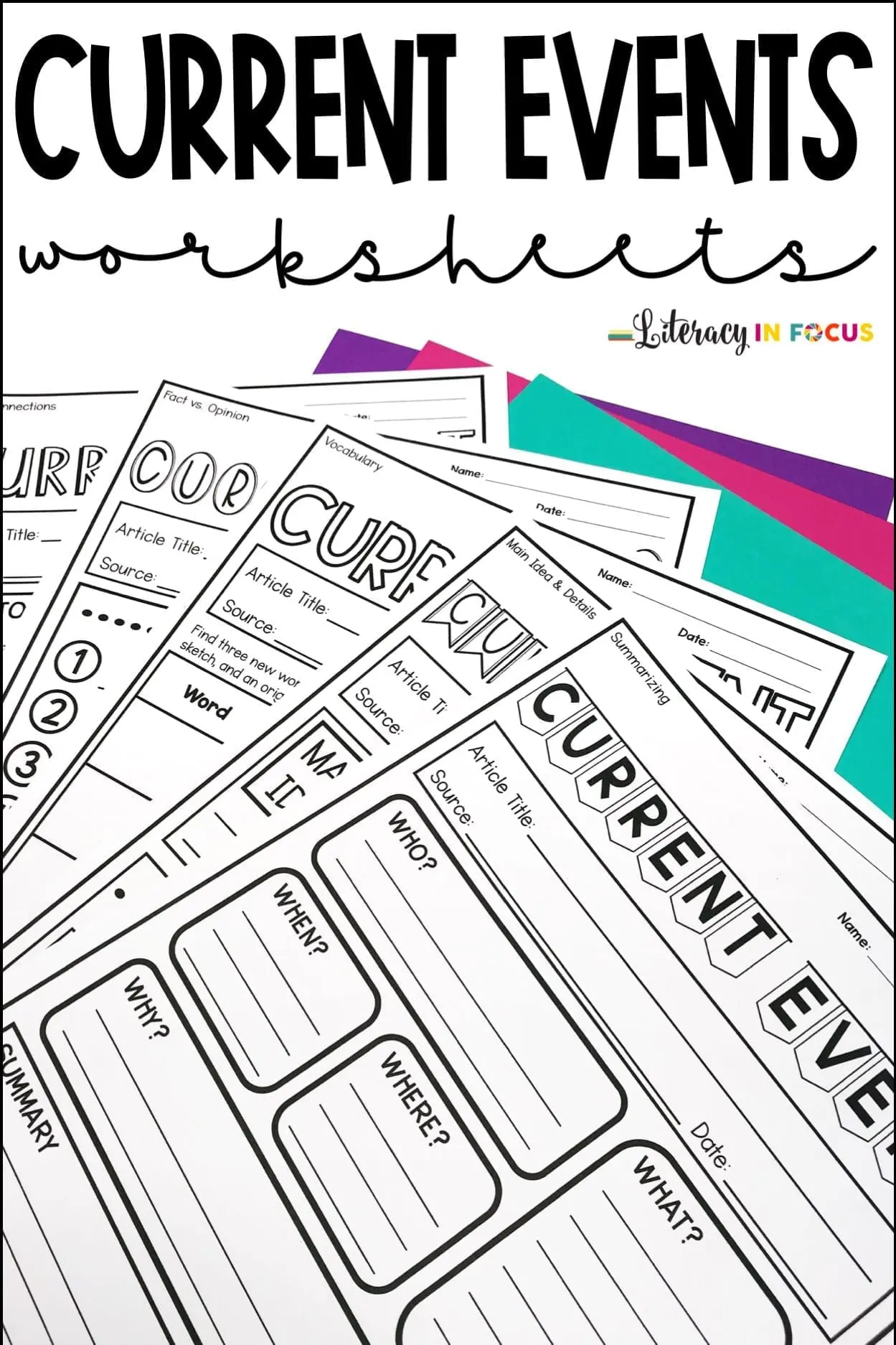 Fact vs. Opinion
Another Common Core Standard that can be addressed with a current event report is distinguishing between fact and opinion. The ability to distinguish between fact and opinion helps students develop their critical and analytical skills in both their reading and their listening. Beginning with the concrete evidence presented in the article, students record five different facts. Next, students are able to apply their knowledge of the facts to help them craft and share their own opinion. Requiring students to give their own opinion sets the foundation for being able to identify opinions presented in the text.
Summarizing
Teaching students how to summarize is easier said than done. When asked to compose a summary, many students tend to rewrite the entire text. The act of summarizing is a skill that needs to be learned and practiced over time. An effective method for teaching students how to summarize non-fiction text involves basic information gathering skills. Locating and recording the 5Ws (who, what, when, where, and why) presented in the text will assist students in determining the important information that will shape their summary. Students will use the information obtained from the 5Ws to write a concise summary of the news article, creating a meaningful current event report that meets the Common Core Standards for reading informational text and summary writing.
Reporting on current events in the five different formats will provide your students with the skills necessary for mastering the Common Core Standards. While each format requires a foundational basis of understanding, the outcome and practice will strengthen students' core knowledge of informational text.
Click Here to Download all Five (Printable and Digital) Current Event Templates from Literacy in Focus on TpT.