Travel brochure projects stand the test of time because they are so versatile. They work well across content areas and grade levels. It's also fairly easy to align your brochure project with Common Core and state standards. Finally, historical travel brochure projects appeal to a wide-range of learners; they are easy to customize and differentiate as needed. Ideas for each panel of a historical travel brochure project are listed below. Higher order thinking skills are sprinkled throughout to balance rigor and creativity.
COVER PANEL
The overall objective of the project is for students to create a historical travel brochure that entices others to visit a time and place in history. The cover panel should reflect this objective. Students will need to:
Add a brochure title

Draw (or insert) a cover picture

Write one sentence that encourages people to visit the historical location.
FREQUENTLY ASKED QUESTIONS
Frequently Asked Questions: The frequently asked questions portion of the brochure project requires students to think critically about the historical location. Based on what they have learned about the location and historical time period, students will need to:
Write three historically accurate questions and answers about the location.
REASONS TO VISIT
Persuading travelers to visit the historical location gives students an opportunity to apply what they have learned. In other words, this portion of the brochure will require students to make use of the information in a context different from the one in which it was learned. Students will need to:
State three reasons to visit the location and draw (or insert) a picture for each reason.
FACTS
Requiring students to provide historically accurate facts about the location will show that they clearly understand and are able to translate credible historical information. To do this, students will need to:
Include four historically accurate facts about the location.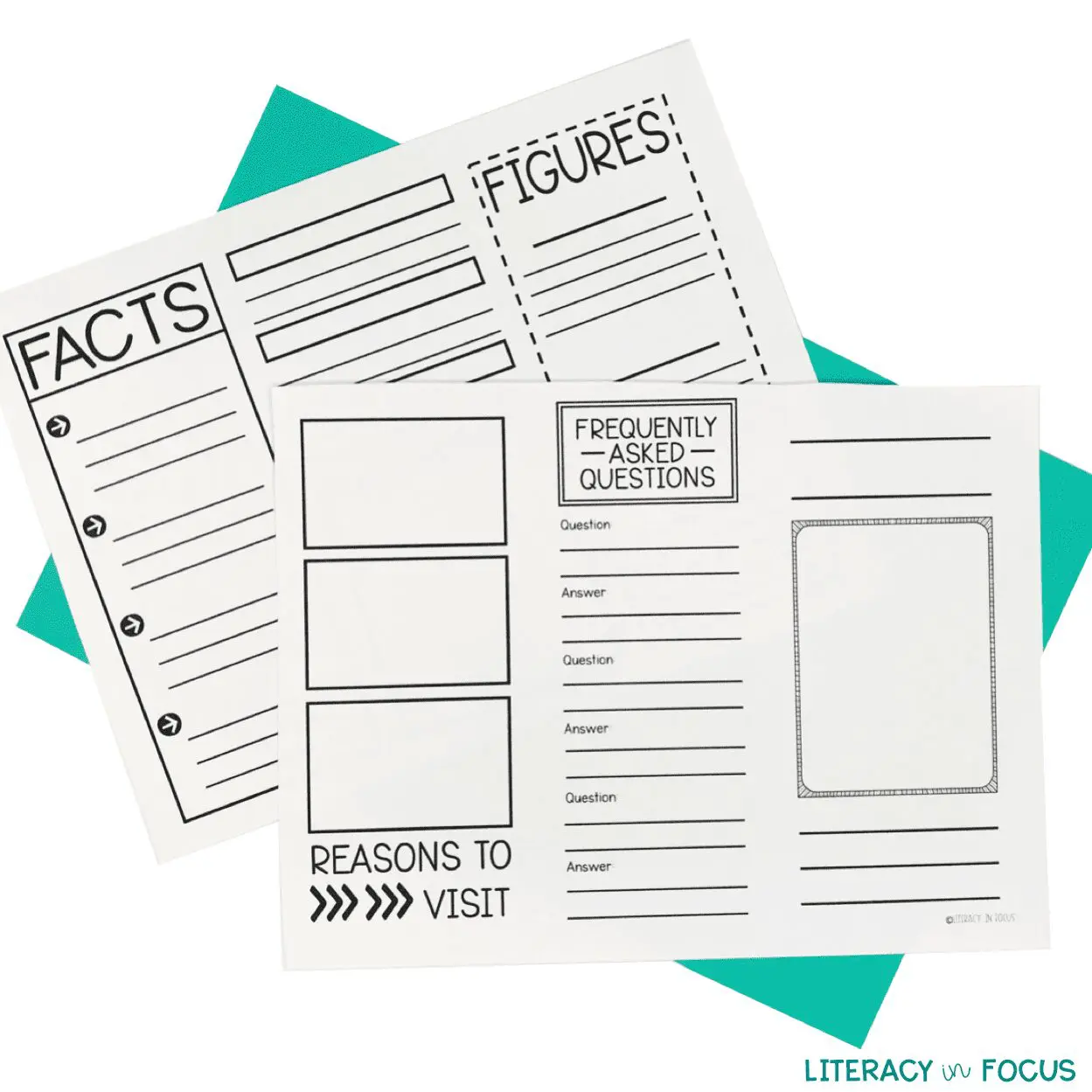 MAP & GEOGRAPHY
This portion of the brochure project reinforces map skills and supports spatial thinking by requiring students to visualize where cities, landmarks, and geographical features are located in relation to one another. Students will need to:
Draw (or insert) a map of the historical location with a corresponding list and description of three cities, regions, or landmarks.
FIGURES
Students will clearly show the connection between the location and three important historical figures. Exploring the relationships between important people and the historical location requires students to think deeper about what they have learned. To complete this panel of the brochure, students will need to:
State one historically accurate fact that connects three influential figures to the historical location.
Additional Lesson Components
Research Guide: Providing students with a research guide will assist them in finding and recording relevant information for their travel brochures. It will keep students focused and on-track throughout the research portion of the lesson.
Bibliography: Encourage students to record their sources of information by providing them with a bibliography template.

Easybib.com

is a free online resource students can use when composing their bibliographies. It will generate citations for all the major writing formats.

Brochure Directions and Rubric: Ensure student understanding by providing clear directions and expectations for the historical brochure project. Ideas for rubric criteria include historical accuracy, completion, neatness, and effort.
Examples: Showing students examples of past brochures is helpful, but not necessary. You can use examples to inspire students and give them a concrete idea of what the finished project might look like.
"I loved this resource! I really missed doing travel brochures in person with my students and this was definitely what I was looking for to use in distance learning. Will definitely use again!" -Jackqueline A.