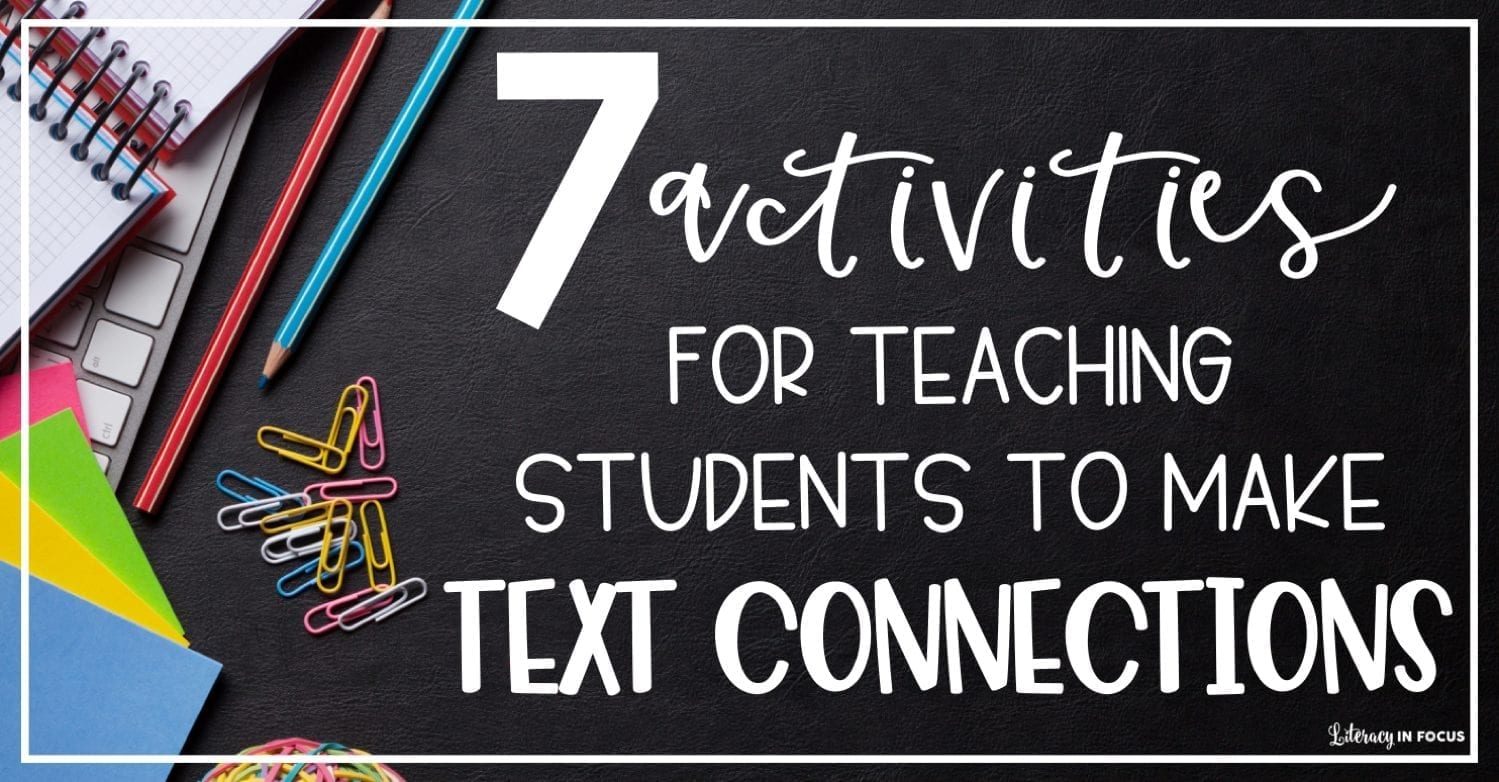 Making authentic connections with the text deepens understanding and increases the probability of retention. Taken a step further, each type of text connection has a specific purpose and benefit. Text to self connections help students relate to the text on a personal level, deepening their understanding and creating a more meaningful and memorable reading experience. Text to text connections strengthen prior knowledge and allow students to identify commonalities across authors and genres. Text to world connections increase comprehension by relating previously learned concepts to new information. Like other reading comprehension skills, repeated exposure and practice with the cognitive process of making connections with the text will help students develop the confidence necessary for it to happen when reading independently. The seven activities outlined below can be used together or separately, depending on time and student abilities.
Text Connections Anchor Chart
An anchor chart is a visual tool that is used to support instruction. When created with students, an effective text connections anchor chart will guide learners through the cognitive process of making connections while reading. As with any anchor chart, it is important to keep it simple. Create your text connections anchor chart as you explain the reading strategy with your students. An illustration, definition, and sentence frame for each type of connection is adequate. When completed, the anchor chart can be used throughout the year as a reference for making connections with all different types of texts.
Text Connections Graphic Organizer
Graphic organizers provide students with a visual way to categorize information. Working within the framework of a graphic organizer will scaffold learning and build a strong foundation for making text connections. More specifically, an organizer that includes prompts and sentence frames will help students when making distinctions between each type of connection.
CLICK HERE TO DOWNLOAD THE FREE TEXT CONNECTIONS GRAPHIC ORGANIZER!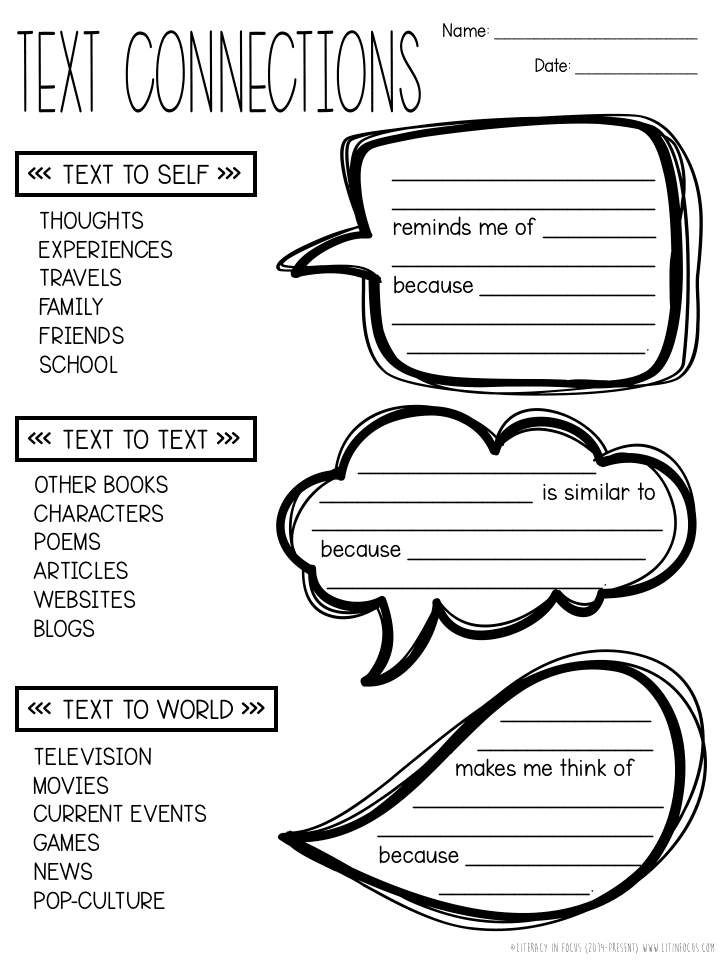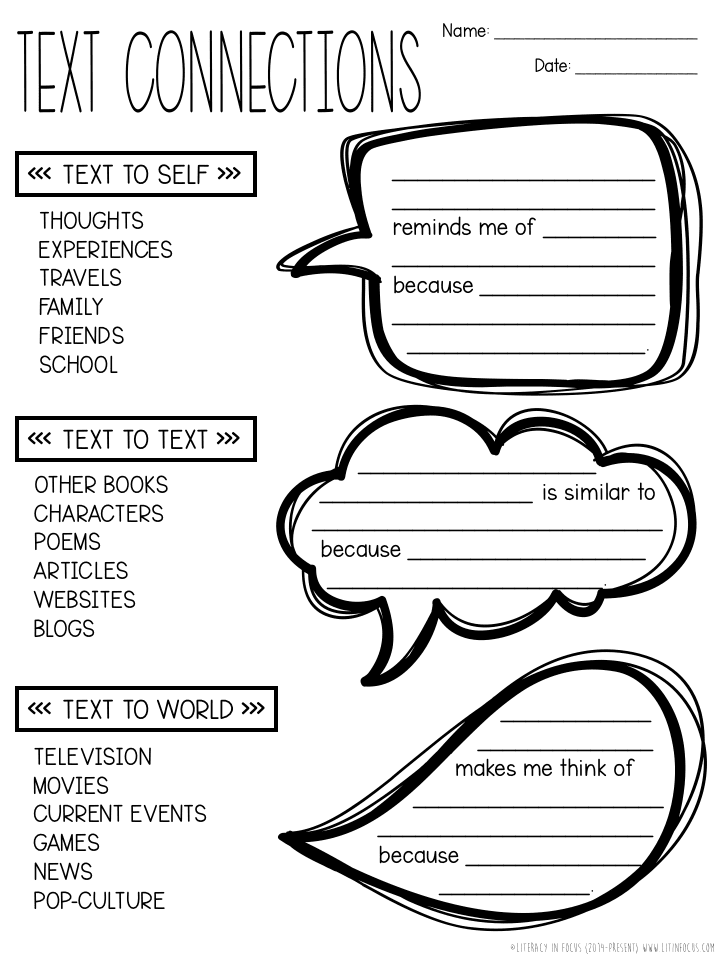 Text Connections Bookmarks
It is important that students are able to make connections while reading, but marking up the text is not always an option. Providing students with a template for note-taking while reading will reinforce the text connections process. I refer to the note-taking template I use as a bookmark. Each bookmark focuses on a different type of text connection and includes a definition and sentence frame. An example is shown below. You can make your own bookmarks or click here to download them from Literacy in Focus on TpT. Focusing on one type of connection at a time scaffolds learning and gives students time to master each one.
Text Connections Sticky Notes
Like the bookmark activity explained above, sticky notes work well when writing in the text is not possible. As an added bonus, a sticky note template can be reused with each text. The process is simple – students add sticky notes to the correct spaces as they read the text and make connections. After you make your template (see the example below), print them on card stock and laminate them. You will have a text connections activity for years to come!
Text Connections Worksheets
Like anything in life, mastery takes time. When it comes to certain skills, worksheets are effective for independent practice. Until students have mastered the ability to make text connections automatically and independently, worksheets can help guide them through the process. Perfect for homework or silent reading time, practice worksheets will help students make connections when reading independently.
Text Connections Tracker
A tracking template is perfect for making text connections throughout the year. We want students to make connections with all types of texts, so giving them a place to record those connections as the year progresses makes sense. Due to the nature of the assignment, a tracking worksheet makes a great addition to an interactive notebook or reading folder. The tracking template is a simple table with four columns and five (or more) rows. Label the columns: Text Title, Text to Self, Text to Text, and Text to World. Each time students read a new text, they will fill in a row in the table with their text connections.
Text Connections Link-Up Activity
A text connections link up is an interactive and engaging class activity. First, students write their connections on colored strips of paper (each type of connection is made on a different color of paper). Next, students link up their connections and attach them to the corresponding text connections label or poster (see the example bulletin board below). Links can be added throughout the year as new texts are read. The link-up activity makes a great visual representation of the entire text connections process.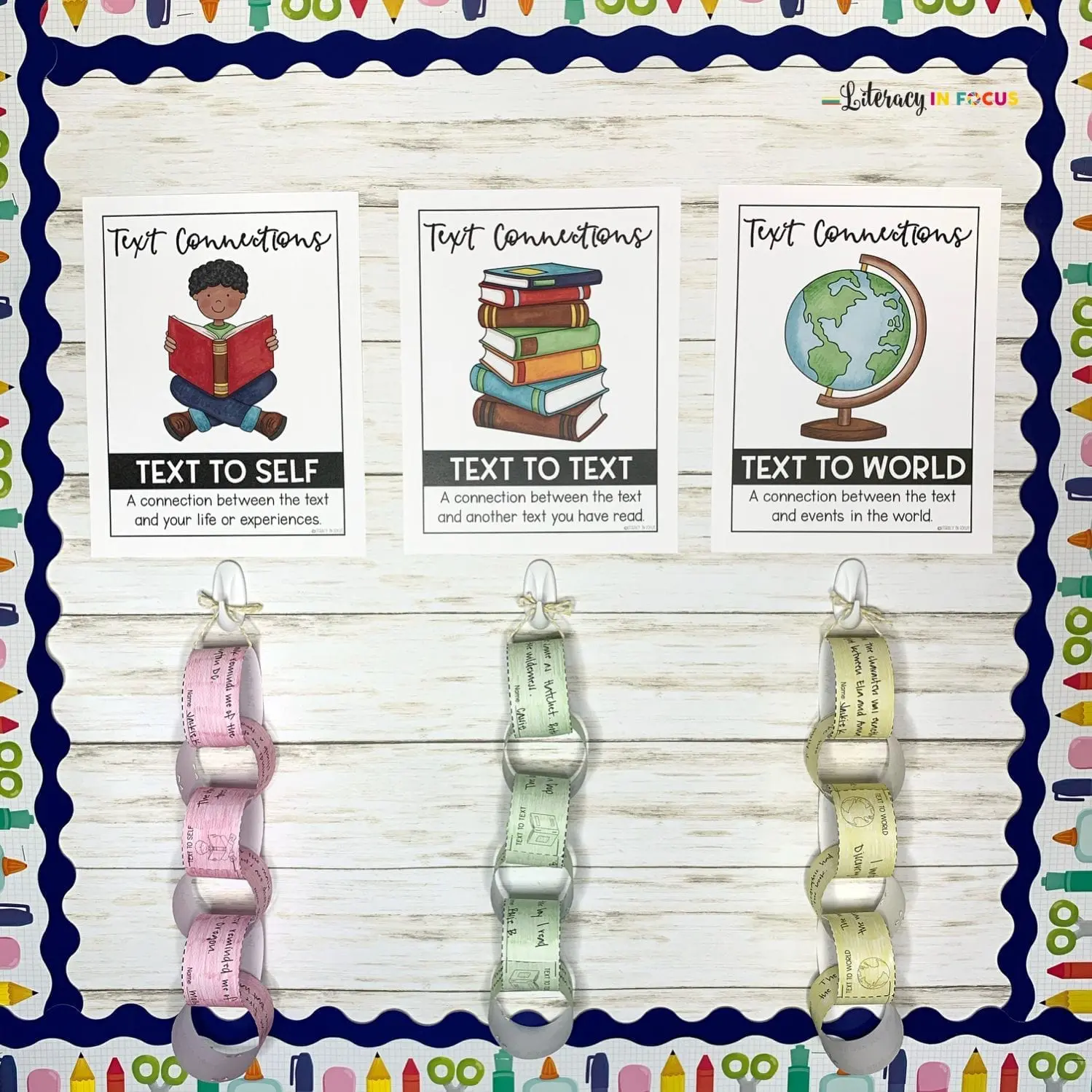 If you want to add more text connections instruction to your curriculum, but don't have time to create it all, download everything from Literacy in Focus on TpT. Full-color classroom posters, anchor charts, worksheets, graphic organizers, bookmarks, and more are all included! Digital versions are also included for use in your Google Classroom. Start using it with your students today!
Click Here to Download the Text Connections Activity Bundle from Literacy in Focus on TpT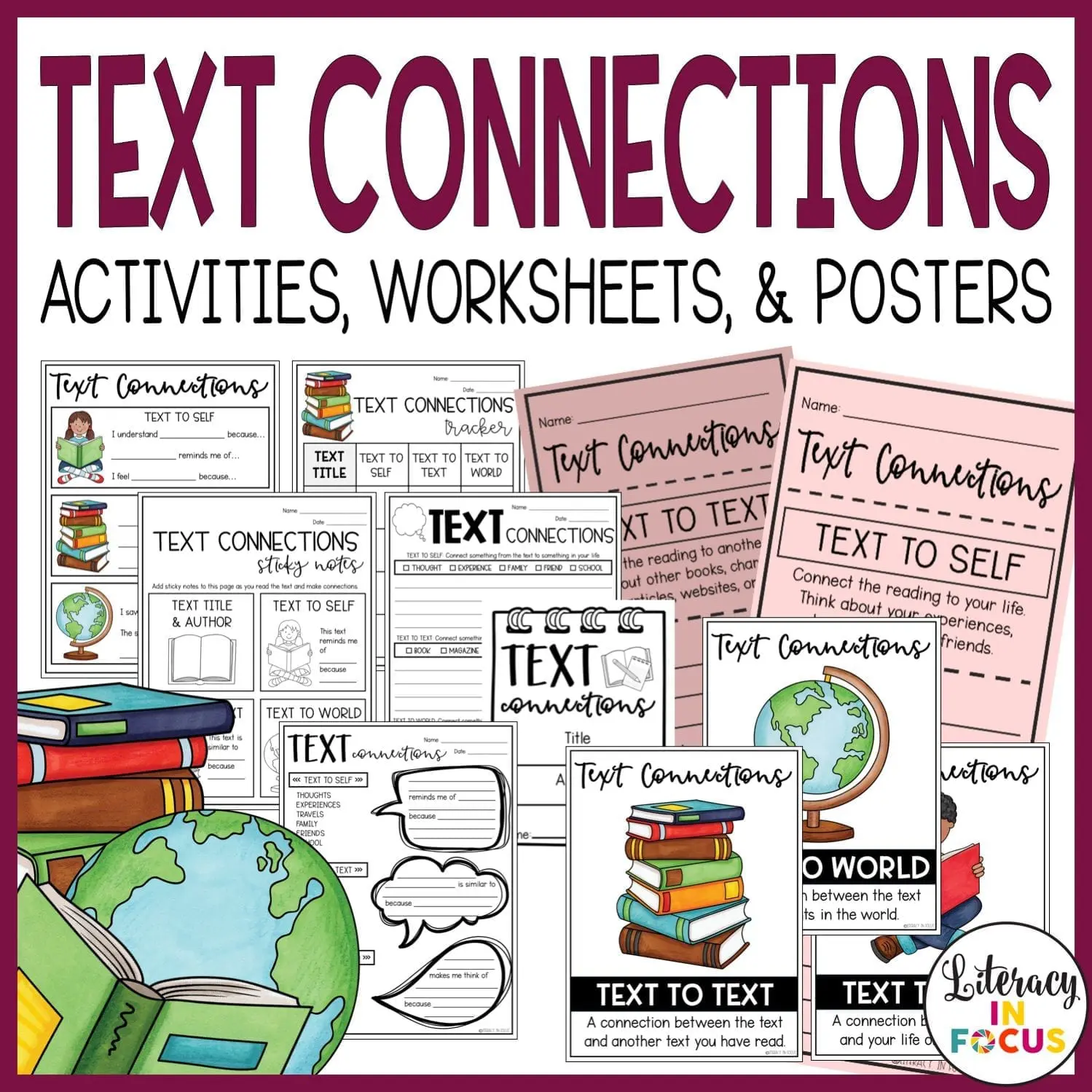 ✕
Text Connections Graphic Organizer (PDF & Digital)