Earth Day Reading and Writing Activities
April tends to be hectic month for teachers. State testing, spring break vacation, and uncertain weather combine to form the ultimate school year trifecta of frenzied craziness. Typically, researching and planning for Earth Day activities is the last thing we want to do during the frantic month of April, which is why I created several different no-prep Earth Day activities that I can rely on every year. When it comes to holidays, I want to be festive, but I also don't want to miss out on valuable instructional time. The post below walks you through how I focus on the history and relevance of Earth Day while simultaneously reinforcing reading and writing skills.
Earth Day Reading Comprehension Lesson
1. Close Reading
I begin the Earth Day festivities with a close reading. It is important to choose an Earth Day text that is complex and rigorous enough for students. Text length can be altered to meet the needs of the differing levels of learners in your classroom. For example, a low-level reader and an advanced reader will examine the same text, but the length of the text will be different depending on ability. The inherent structure of close reading is ideal because it doesn't require a separate lesson for each level of learner in your classroom. In addition to breaking up the text, the natural progression of a close reading lesson is scaffolded. Each reading of the text builds on skills mastered from the previous reading, making it a suitable choice for all levels of learners. After selecting your Earth Day text, it is time to plan each step of your close reading. The first reading of the text should focus on key ideas and details. Having students underline the main idea is a great way to get started. The next reading of the text focuses on craft and structure, which is an ideal time for students to identify and define unknown vocabulary words. Learning new vocabulary in context will assist students in acquiring and remembering the new words. Finally, the third reading is a great opportunity to dive deeper and work with text-based evidence.
2. Vocabulary Support
Vocabulary support can take place before or after the close reading lesson. In this case, we dive deep into the tier-two and tier-three vocabulary terms related to Earth Day after we finish close reading. Using a graphic organizer will work well for supporting students in learning the meaning of the new terms. Requiring students to define each new word, use the word in a sentence, find a synonym for each word, and sketch a picture to represent the meaning of the word will increase understanding and help to cement newly acquired knowledge. Depending on time and ability, the vocabulary organizers can be pre-printed or student created. In addition to completing the graphic organizers, students will need an opportunity to apply their knowledge of the word meanings. That way, when it comes time to use the word in a different context, students will be successful. A quick and easy way to accomplish this is to have students write an original story using all of their new vocabulary terms. Students will have a chance to work with the new words related to Earth Day, and you won't have to create anything additional for this lesson!
3. Extension Activity
I like to include an extension activity that requires students to connect learning to their own lives. It gives students a chance to build upon what they have learned and apply their newly acquired knowledge about Earth Day. Making a text-to-self connection will reinforce learning and help to establish a stronger connection with the Earth Day content presented in the reading. In order to do this, students describe two things they can start doing to help protect the planet. The purpose of the writing activity is to create relevance and meaning for learning about Earth Day. Students will also get a chance to create an Earth Day illustration that corresponds with their ideas for protecting the planet.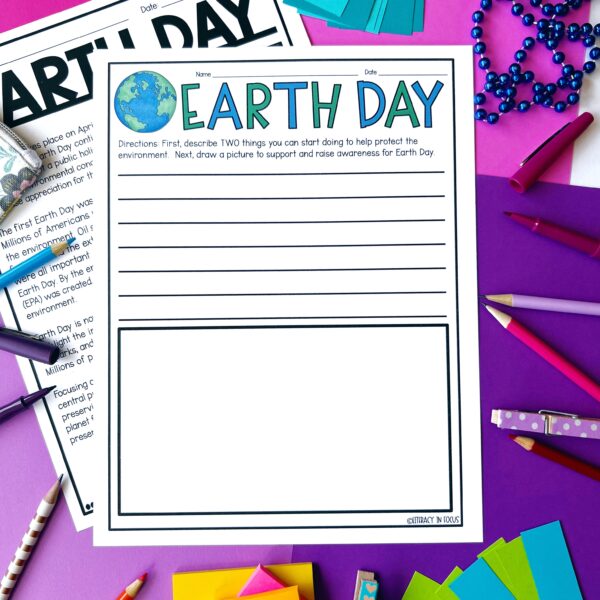 4. Assessment
I conclude the Earth Day reading comprehension lesson with an assessment. Wrapping up the lesson with an assessment gives students a chance to reflect on what they have learned about Earth Day. The three-part assessment I use is based on the informational text and covers vocabulary, comprehension, and includes a short answer extension question. Since the entire lesson is differentiated to meet the needs of all learners in the classroom, I use a separate assessment for each reading level.
Earth Day Writing Activity
1. Brainstorm
In order to make the Earth Day writing activity student-centered and relevant, the prompt requires students to describe three ways they can help save the environment. Using a bubble map graphic organizer to kicks things off is a low-key activity that works well for starting the writing process. Additionally, completing the bubble map as a class will help those students who may be having a hard time thinking of environment saving activities. When the brainstorming is finished, students should have a long list of ideas to utilize when it's time to start outlining their paragraphs.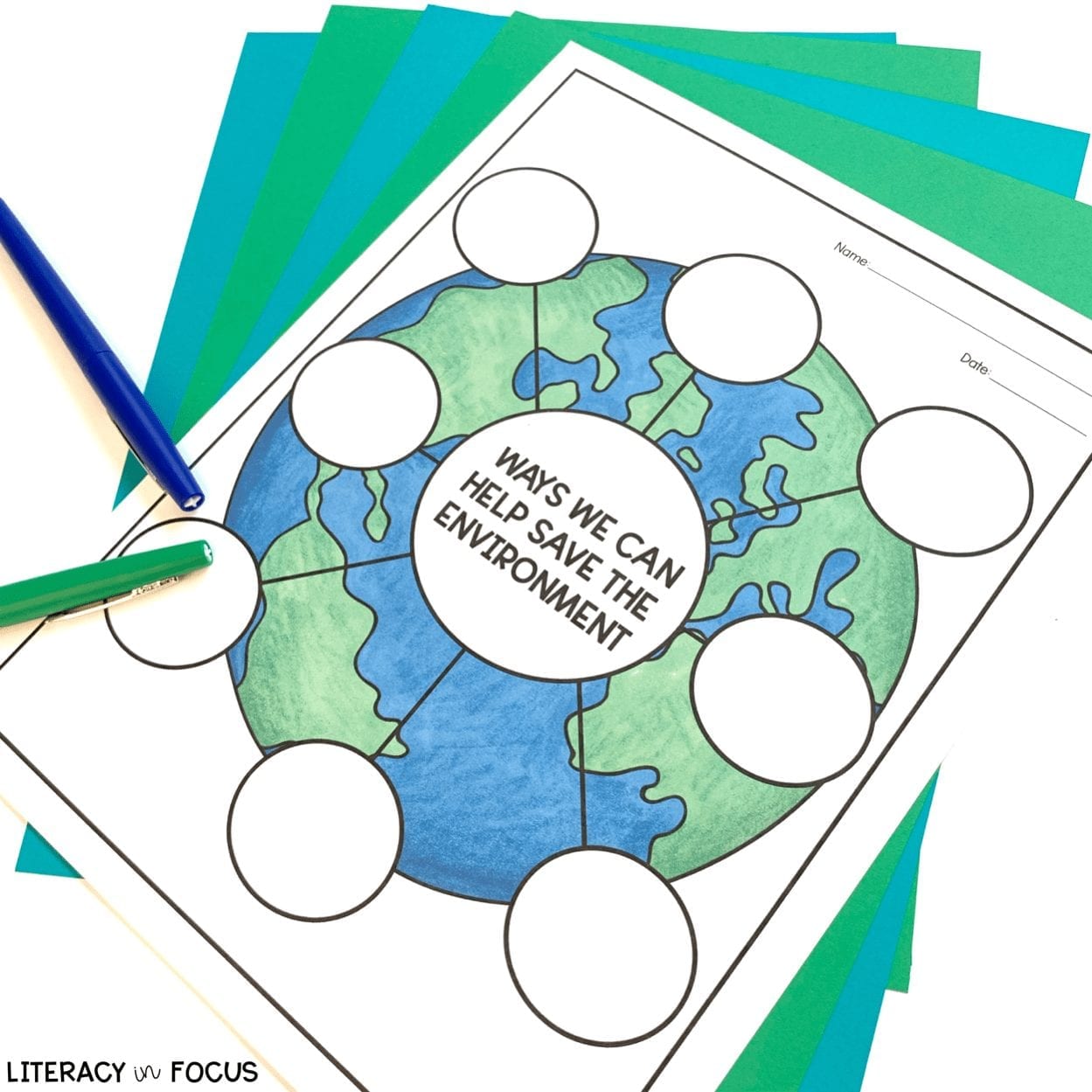 2. Pre-Writing Template
The pre-writing template is extremely helpful because it provides students with a framework for writing their paragraph about saving the environment. Typically, the outline is an independent activity. It will help students organize their thoughts before they begin crafting their paragraphs. As students move through the writing process, each step becomes more and more important. The final draft will be a clear indicator of how much time was spent in the pre-writing phases.
3. Paragraph Outline
The outline provides students with a sentence-by-sentence format for writing their paragraph. As students grow and develop their writing skills, they may not need such a detailed outline. Also, differentiating the outline to include more or less structure works well for classes with a diverse group of learning abilities.
4. Rubric
In integral part of the writing lesson includes reviewing the grading rubric with students ahead of time. It is important that students clearly understand the expectations before they begin crafting their paragraphs. I find that a simple four-point rubric with space for teacher comments works well. I like to think of the rubric as the roadmap for the concept or lesson I'm trying to teach, so it only makes sense to review it with students before beginning the writing process.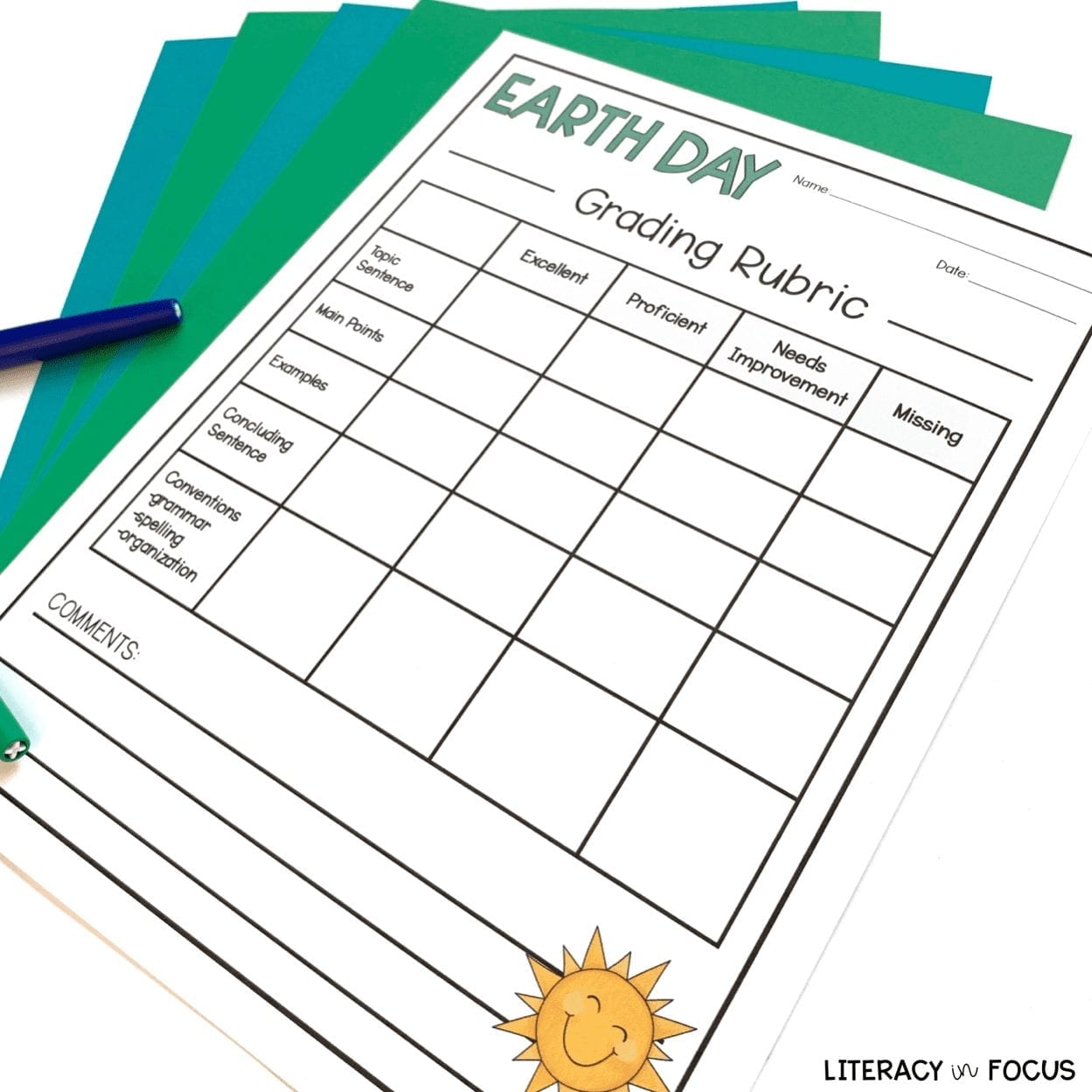 5. Examples
Reviewing examples of completed work helps get the ball rolling, and provides students with the confidence needed to execute the writing assignment. I like to have an example outline and final draft on hand to use as needed.
As you can see, it is possible to celebrate and address holidays in the classroom while reinforcing reading and writing skills. Don't get me wrong, I do think there is a place for pizza, popcorn, and movies, but it doesn't always have to take away from our valuable instructional time. We have a limited amount of days to cover all of our curriculum, so using a standards-based approach to teaching about the holidays makes so much sense. If you are like me and feel like April is moving at the speed of light, you can avoid the time-consuming task of researching and planning your Earth Day reading and writing lessons by downloading them today from Literacy in Focus on TpT.