FREE COPS Editing Checklist | Printable PDF
This free COPS editing checklist is perfect for peer or independent editing! COPS stands for capitalization, organization, punctuation, and spelling. The acronym is designed to help your students remember what to look for when it's time to edit. Click the link below to download the FREE printable COPS editing checklist today!
This simple COPS editing strategy will help your students improve their writing skills. Use the COPS checklist to create an anchor chart, classroom poster, or even student bookmarks. You will be amazed at how quickly your students learn the steps and start using them independently!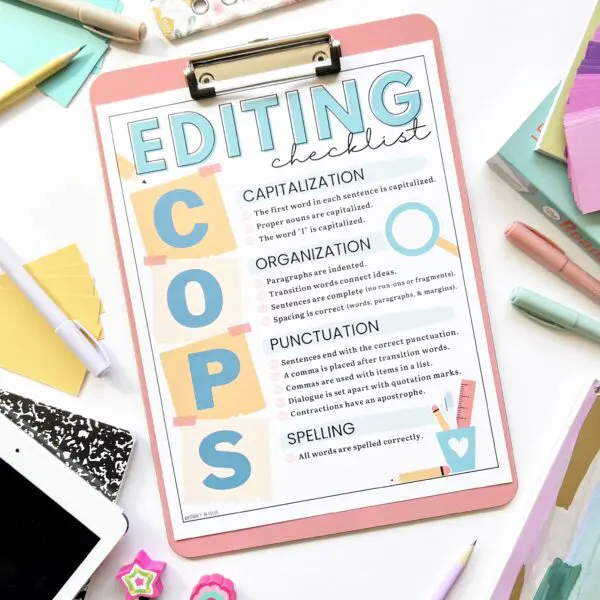 Want more COPS editing materials? Click HERE to get printable and digital checklists, posters, bookmarks, and more! Everything you need to teach your students how to edit their sentences, paragraphs, and essays is included!
➡️ Teacher Tip: When it's time to start editing, instruct students to proofread their paper four times, focusing on one of the four COPS criteria for each reading. This will make the editing process more manageable and less overwhelming for students.
Here are some ideas for using the COPS Editing Teaching Materials:
Use the classroom posters and COPS lettering to create an editing bulletin board that you can reference throughout the year.
Use the small checklist as an individual reference chart. Students can paste the pocket-size checklist on the inside cover of their writing notebook or journal.
Use the full page checklist to create an editing anchor chart with students.
Add the digital checklist to your Google Classroom for students to use with writing assignments.
Click HERE to preview everything that's included!