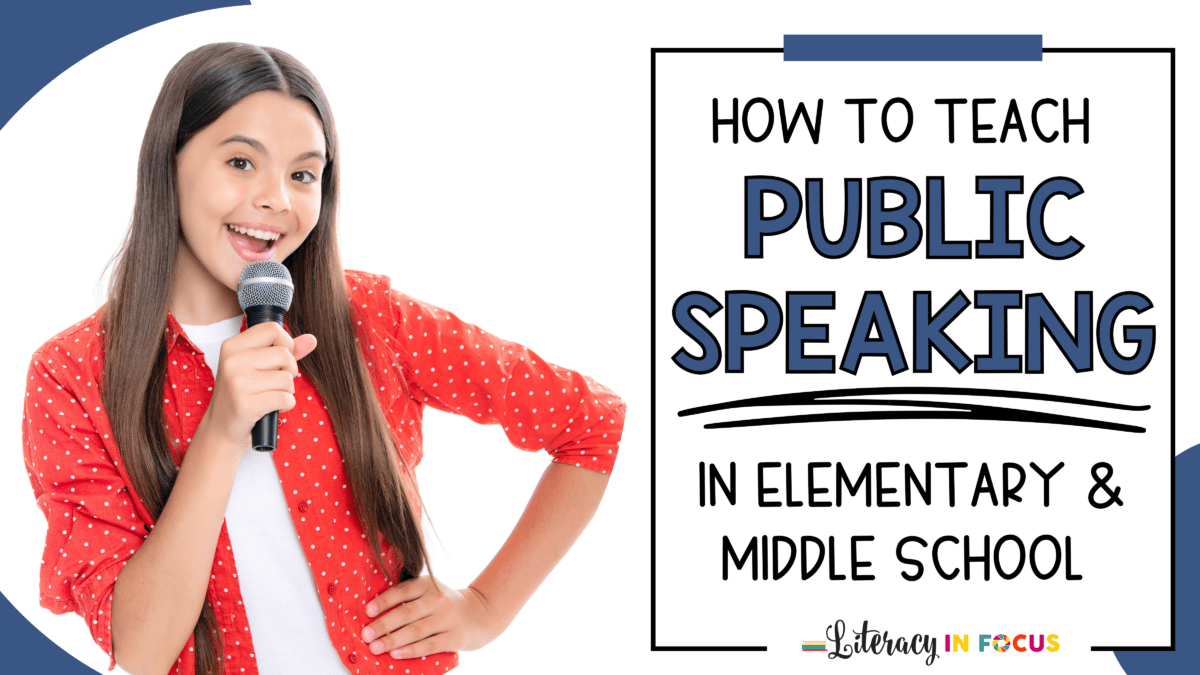 How to Teach Public Speaking in Elementary & Middle School
In our world of instant communication and ever-evolving technological advancements, it's important that we teach our students to be effective speakers. Delivering speeches, participating in classroom discussions, and presenting projects are all things students will be expected to do as they progress through their future educational endeavors. The post below includes four helpful strategies for teaching public speaking to students in elementary and middle school.
Start with Basics
Most students in elementary and middle school are new to public speaking. Like anything else in education, it's important to start with the basics. Below is a list of key concepts you can introduce early. This will give students a chance to improve over time.
eye contact

posture

voice volume

facial expressions

stage fright
After building a strong set of foundational skills, students will be prepared to tackle more advanced techniques. Ultimately, the goal is for students to feel confident and prepared to speak in front of an audience.
Examples and Modeling
Students new to public speaking will benefit greatly from examples and modeling of the following topics:
what to include on notecards

speaking from notecards

writing a speech in outline form

speech timing

speech delivery

use of visual aids
Watching videos of famous speeches, TED Talks, or student speeches on YouTube will provide students with examples of speaking styles and techniques. Two examples are linked below.
"Always Pan" (Sales Speech)
Storyline Online (Oral Interpretation Speech)
Examples of speeches written in outline form are also extremely helpful. Use the outline and format described in this post to guide your students through the speech writing process. All of the major components of a speech are included and explained in a format students can understand and apply. Once students understand the step-by-step method for crafting a successful speech, they will feel more confident speaking in front of an audience.
Rubrics are a Must
Use a rubric to list the necessary criteria for each major part of the speech, including the introduction, body, conclusion, pacing, inflection, and audience engagement. Review the rubric ahead of time to ensure students clearly understand the speech expectations. The consistent use of rubrics will provide students with a roadmap for improvement to help students track their growth over time. Click HERE to download a free oral presentation rubric.
Stick to Short Speeches
Set time limits for speeches based on age and skill level. Three minutes is a good starting point. Elementary and middle school students have limited attention spans, so it is crucial to keep their speeches concise and engaging. This will also encourage students to express their ideas effectively in a short amount of time. Keeping speeches short will foster clarity and concise expression of thoughts.
Teaching public speaking to elementary and middle school students lays the foundation for effective communication skills and boosts their self-confidence. The strategies listed above will help create an environment that fosters growth and empowers young learners to become confident speakers. Remember, the key is to provide a supportive and encouraging atmosphere, where students can gradually refine their public speaking abilities.
"This is a ready-to-use resource for my Public Speaking semester-long middle school elective. Great ideas and activities." -Michelle B.
"We built a year of instruction off of this resource. Each week we tackled a new type of public speaking. The students enjoyed the notes and activities included in this resource and it saved me so much time! Everything I needed was right here. I will be using this again!!" -Lacey Y.
"This bundle makes public speaking a breeze. My students find it engaging, and it reviews multiple different skills that public speakers need. I love the options for different types of speeches (the Award Ceremony is a student favorite)." -Kasey L.
This printable and digital bundle is jam-packed with engaging lessons and activities your students will love! The comprehensive and easy to use lessons include directions, examples, rubrics, and more! Save time and build student confidence with this step-by-step curriculum plan!
Download today and get the public speaking curriculum plan with objectives, & standards for FREE!