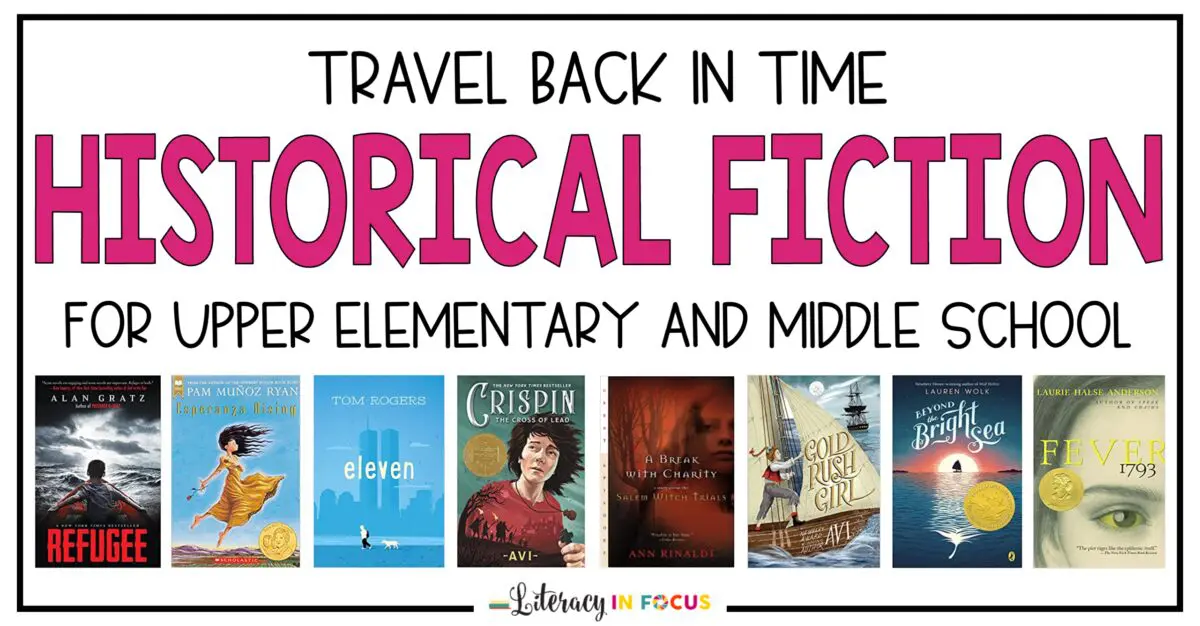 Reading historical fiction is a captivating way for kids to learn about history and gain a greater appreciation for diversity and different ways of life. Hopefully, engaging with the stories and characters in the books listed below will inspire young readers to want to learn more about what happened in the past.
Crispin: The Cross of Lead by Avi is filled with adventure and mystery, two things middle-grade readers love! Crispin is a thirteen-year-old peasant boy who flees his medieval village after he is wrongly accused of a crime. He's been declared a "wolf's head," meaning he can be killed by anyone. Readers follow Crispin through the English countryside as he fights to stay alive and clear his name. This Newbery Medal winner is a must-read for all middle-grade students, especially those studying the Middle Ages. (Ages 10+)
In A Break with Charity, author Ann Rinaldi crafts a fascinating story about the Salem Witch Trials from the perspective of a young girl named Susanna. When Susanna learns that other young girls in Salem are making accusations leading to the imprisonment of innocent people for witchcraft, she must make a painful choice. Should she keep quiet and let the witch-hunt continue, or should she "break charity" with the girls and risk having her family named as witches? Rinaldi blends history and fiction to bring this harrowing story to life, making it exciting and believable for middle-grade readers. (Ages 12+)
Fourteen-year-old Mattie Cook lives with her family in Philadelphia where they run a popular coffee house. Mattie's dreams of running the family business on her own one day are interrupted when horrible epidemic of Yellow Fever sweeps through the city in 1793. It isn't long before Mattie and her family become trapped in a horrible nightmare. As disease sweeps through the city, Mattie finds herself alone and struggling to survive. As the days turn into weeks, Mattie wonders if her life will ever be the same again. Fever 1793 provides young readers with a glimpse into eighteenth-century Philadelphia during a deadly time that most could otherwise never have imagined. (Ages 11+)
Gold Rush Girl by Avi is a thrilling adventure story set in San Francisco during the California Gold Rush. The story follows a young girl named Victoria, who sets out on a journey to find her missing brother. Along the way, she encounters a colorful cast of characters, including miners, theives, and pioneers. This book is a great choice for middle-grade readers who enjoy historical fiction. Avi's vivid writing style brings the Gold Rush to life. Young readers will find themselves fully immersed in Victoria's journey. (Ages 10+)
I Survived the Sinking of the Titanic, 1912 by Lauren Tarshis is a thrilling novel that takes young readers on a harrowing journey through one of the most infamous maritime disasters in history. The story follows a young boy named George, who is traveling on the Titanic with his aunt and little sister. As the luxurious ship sets sail on its maiden voyage, George is thrilled to be a part of such an exciting adventure. However, when the Titanic strikes an iceberg in the middle of the night, everything changes. George is thrust into a fight for survival as he tries to navigate the chaos and confusion that ensues as the ship begins to sink. The novel is written in a clear and accessible style, making it ideal for young readers who are just beginning to explore historical fiction. (Ages 8+)
Beyond the Bright Sea by Lauren Wolk will introduce middle-grade students to a diverse time in history they may not have encountered before. Set on the Elizabeth Islands off the coast of Massachusetts, the story follows the adventures of twelve-year-old Crow, who was born on one of the islands and is haunted by questions about her past. As she begins to unravel the mystery of her origins, she discovers that she may have been born on Penikese Island, home to a leper colony in the late 19th and early 20th centuries. The engaging story provides an opportunity for students to learn about a lesser-known aspect of American history and the treatment of individuals with Hansen's disease (leprosy). Overall, Beyond the Bright Sea is an excellent addition to any middle-grade classroom library. (Ages 10+)
Esperanza Rising is an award-winning novel based on the lives of migrant farmworkers in the 1930s. The story begins when a sudden tragedy forces Esperanza and her mother to flee all they've ever known in Mexico. After settling in a Mexican farm labor camp in California, Esperanza's life becomes filled with struggle. Esperanza must find a way to keep hope alive and work for a new future. (Ages 9+)
In this compact novel, twelve-year-old Dara and her family are forced to flee war-torn Cambodia. The story follows their journey to a refugee camp near the Thailand border where Dara befriends another young refugee. Although the girls form a deep friendship, they cannot escape the destruction of war. The quick-paced plot, rich symbolism and meaningful themes make this a great choice for young readers. (Ages 10+)
Eleven by Tom Rogers is a gripping middle-grade novel that explores the tragedy of the September 11th attacks through the eyes of a young boy named Alex Douglas. The story begins on the morning of September 11, 2001, as Alex prepares for his first day of sixth grade. However, when he arrives at school, he discovers that something terrible has happened in New York City, where his father works. As the events of the day unfold, Alex's world is turned upside down as he tries to come to terms with the scale of the tragedy and the impact it will have on his life and his family. Overall, this powerful story Eleven offers a message of hope and resilience that is just as relevant today as it was in 2001. (Ages 10+)
This New York Times bestseller follows three young kids on their harrowing search for refuge. Forced to leave everything behind, Josef, Isabel, and Mahmoud face unimaginable dangers, including drownings, bombings, and betrayals. Although the story of each child is different, shocking connections are revealed in the final pages. (Ages 10+)
Looking for alternative reading comprehension assessments? Try a reading response choice board! It will provide your students with an opportunity to take ownership of the learning. Click here to get the FREE Reading Response Choice Board to use with ANY fiction novel.