Strategies for Teaching Fiction Summary Writing
Do your students have trouble deciding what to include when summarizing fiction? Many students struggle with summarizing because they don't know how to identify the most important story elements. This quickly snowballs into a complete re-writing of the entire story!
Providing students with specific questions or sentence starters will teach them how to identify the important story elements and avoid the extraneous details. With repeated practice, students will no longer need the scaffolding provided by the prompts.
Before jumping into a summary writing practice activity, discuss with students what a fiction summary is and is not. Creating an anchor chart like the one in the image below will work.
All of the strategies below can be used to teach students how to write effective narrative summaries. Use the prompts for anchor charts, graphic organizers, writing workshops, and more!
First, Then, Finally
This strategy helps students summarize events in chronological order. It's great for chapters or short texts. It also gives students an opportunity to practice using transition words.
First: What happened first?
Then: What happened next?
Finally: How did it end?
*For a longer summary, add "next" and "after that" to the prompts.
Beginning, Middle, End
This is a great strategy for students that don't have a lot of experience with summary writing. You can use it to build a foundation for identifying story elements and sequencing.
Beginning: Describe the main characters and the setting.
Middle: Explain the problem and the things that happen because of it.
End: Explain how the problem is resolved and how the story ends.
5Ws & How
Providing students with question prompts for each component of the 5Ws and How strategy will help students identify the elements required for a cohesive story summary. With repeated practice, students will no longer need the prompts.
When does the story take place?
Where does the story take place?
Who are the main characters?
What is the problem?
Why is there a problem? *Explain what caused the problem.
How is the problem resolved?
Five Finger Summary
The five finger summary strategy is designed to help students remember the key elements of a story. Each finger represents a different story element: setting, characters, problem, events, and solution. This gives students a visual for what to include when summarizing a story. When a reader can recall these five key elements, he or she should be able to provide a basic story summary.
Setting: Where or when does the story take place?
Characters: Who or what is the story about?
Problem: What went wrong in the story?
Events: What happened because of the problem?
Solution: How did the story end?
"I love how simple these organizers are for students to understand and for me to use! I just print and go for any passage we are using!" -Mercedes B.
GIST One-Sentence Summary
The goal of a GIST summary is for students to be able to convey the "GIST" of what they read without extraneous details. To assess comprehension, have students answer who, what, when, where, why, and how questions based on the text selection. Next, students condense their answers into a one-sentence summary. Click here to download a free GIST summary graphic organizer.
Story Wheel
The story wheel activity helps students practice sequencing, summarizing, and visualization. A story wheel is a circle divided into six segments (like a pie). After reading the text, students fill in the story wheel with six of the most important events from the story. The events can be written or illustrated (or both). To assess learning, have students combine the events into a cohesive summary paragraph with transition words. Click here to see an example story wheel and printable template from Reading Rockets.
Storyboard
A storyboard is similar to the story wheel described above. A storyboard is a series of boxes that allow students to illustrate and write about the major events that took place in a story. It serves as an excellent first step in the summary writing process because it gives students a chance to identify and organize major events before composing a written summary. Here are some examples of different storyboards.
Somebody, Wanted, But, So, Then
Practice identifying story elements using the signal words somebody, wanted, but, so, and then. To get started with this, you can also add a question prompt (see below) for each signal word. After identifying the major story components, students will be prepared to write a succinct summary.
Somebody: Who is the main character?
Wanted: What did the main character want?
But: What was the problem?
So: How was the problem solved?
Then: How did the story end?
Plot (Story Rollercoaster)
Students are ready to write a this type of summary when they understand the basic components of plot. Completing a plot diagram like the one linked below will help students organize their thoughts before they begin writing their summaries.
Exposition:
Where does the story take place?

Who are the main characters?
Rising Action:
What is the conflict?

What events take place because of the conflict?
Climax:
What is the most exciting point in the story?
Falling Action:
How is the conflict resolved?
Resolution:
Mentor Text
Start your lesson with a guided summary writing activity. The book Corduroy by Don Freeman is an excellent mentor text because it's a quick read and the story elements are easy to identify. It will work with any of summarizing strategies described above.
Transition Words
When students have a solid understanding of what to include when writing a fiction summary, they will be ready to incorporate transition words. Click here to download a FREE printable list of over 100 transition words.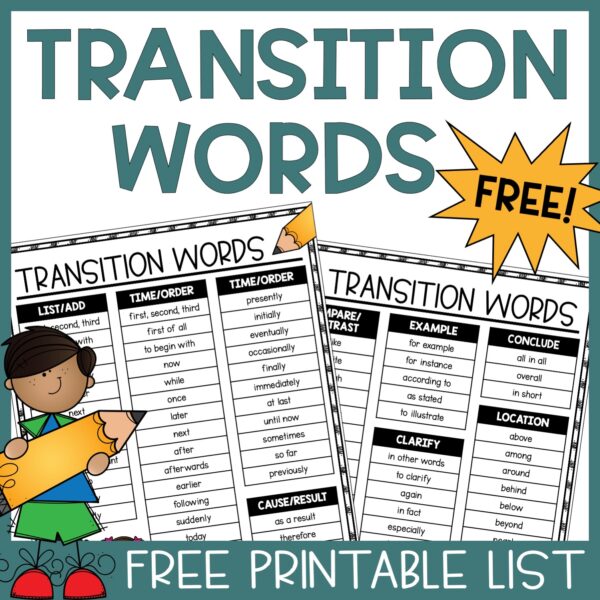 Want more ideas? Click here to see ten different types of summary writing graphic organizers. Each one focuses on a different type of text.