Word of the Year Ideas List | Printable PDF
Setting goals is an essential skill that students should develop early on in their academic journey. When students have a clear idea of what they want to accomplish, they are more likely to direct their energy and attention towards achieving their goals. This helps them stay motivated, organized, and on track.
Teach your students how to set and accomplish goals with a word of the year activity. Choosing a word to focus on throughout the year will help your students…
make decisions (that align with their goals)
plan and prioritize tasks (to ensure they are making progress towards their goals)
improve skills with hard work and effort
develop a growth mindset
build resilience and confidence
A word of the year project can be completed in January or at the start of the school year. Both times are ideal for setting goals. Don't forget to share students' words and goals with parents during conferences, Open House, or Back to School Night.
How to Choose a Word for the Year?
There are many ways to help students select a word for the year. Click here to see a step-by-step process that you can use with your students. A brief description of each step is described below.
1. Brainstorm- Give students time to think about the things they want to accomplish this year. Providing a framework of questions (see image to the right) will move students in the right direction. After identifying three or four goals, have students pick a word that will inspire them to achieve those goals. This will be their focus word for the year.
2. Plan- Have students create an action plan that lists steps they must take to accomplish their goals.
3. Reflect- Over time, give students the opportunity to rate the progress of each of their goals, explain what they feel they have done well, and describe what they would like to improve.
A Word of the Year activity is a great way to encourage a growth mindset, while teaching students how to set and accomplish their goals. Click the link below to get the printable and digital Word of the Year Project today!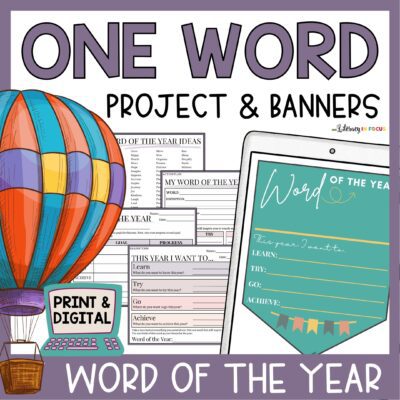 Here's what teachers are saying about this engaging project:
"This was an amazing activity! I haven't read all of my student responses yet – but the ones I have… gave me goosebumps! The kids took this so serious and really put a lot of thought into their answers to come up with their word. I will do this every year!" -Jamie
"I used this as a New Year's activity. Students choose their focus word of the year and the pendents are now hanging all over the classroom to remind students of what they want to achieve, Other teachers have even commented on what a great product it produced. Thank you!" -Meridy
Get everything you need to complete a successful Word of the Year project with your students! Click HERE to preview everything that's included!
100 Word of the Year Ideas
Brainstorm Graphic Organizer
Action Plan Template
Reflection Worksheet
6 Color & Design Templates
2 Banner Templates
Banner Examples